Jim Corbett National Park - History
The fable of Edward Jim Corbett is still persisting in the minds and hearts of the people of Garhwal and Kumaon. People all over the world know Jim Corbett from his fabulous writings as a famous hunter who later became the adversary of many notorious man-eaters. There are four biographies on him and three films on his life that displays the lucid accounts of his exploits that he has given in his books.
Edward James Corbett was born 25th July 1875 of English ancestry in Nainital districts of Uttarakhand. He grew up spending much of his childhood exploring the wilderness that exists around. Jim Corbett lived his life amidst dense jungle and developed a deep knowledge of the way. Sir Jim Corbett spent his major part of his life at Gurney House (located in Nainital) with his large family, his mother Mary Jane Corbett and his sister Margaret Winfred Corbett, fondly called Maggie. His father, who was postmaster in Nainital died when Jim Corbett was four. The whole responsibility fell to Corbett's mother to raise and educate 12 children on a widow's meager pension. Soon after an early age Jim Corbett has to face with the responsibility of supporting his family of six members so he took up a job with the railways.
Over the years he became a good hunter as well as wonderful naturalist. He was blessed with the excellent observation, fleet- footed and great stamina. He was so intelligent and active that he could read the signs of the forest and movement of wildlife as put all senses on (sight, hearing and smelling) while moving in the forests. He has a record of killing 19 tigers and 14 leopards. He was also a pioneer conservationist and played a key role in the establishment of present Jim Corbett National Park. He led a confirmed bachelor life and remained an active member of many wildlife preservation organizations and helped in conserving these natural resources.
History - Photo :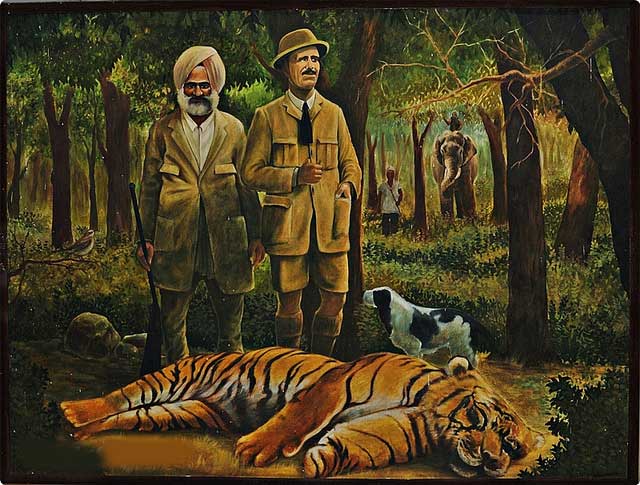 Jim Corbett National Park Heritage :
A Blend of Nature and Culture : Who says there is nothing more to discover on planet earth? Corbett remained not just about nature when on April 1st, 1973, Project Tiger, the biggest conservative initiative of that time, was launched. The region was also marked as a richest treasure of history and cultural heritage. It has a long tradition of conservation when the first effort to save the forests was made in early 19th century. Holding the status of the oldest National Park of Asia as well as First Tiger Reserve in India, Corbett symbolizes a pioneer effort in preserving our natural resources.
The legend hunter cum conservationist Sir Edward Jim Corbett requires a little introduction here. His valuable contribution in conserving this magical land is still alive in the minds and hearts of the people of Nainital and all over the world. His writings have motivated generations of wildlife enthusiasts. The area in around the Corbett National Park was mystery for him so he started exploring the deep jungle. He faced close encounter with many men-eaters Tiger and Leopards and took his hunting expeditions in the same areas.
A Tradition Of Conservation
A traditional knowledge is important for the sustainability of available natural resources including water, forests and landscapes. The current confined periphery of the Jim Corbett National Park and its surroundings was known for its diversity of wildlife and scenic beauty for more than a hundred years ago.
Let's go back to beginnings when efforts to save the identified regions of the forests started in the 19th century under the guidance of Major Ramsay. He was the British officer who held the responsibility and appointed the In-charge of the area during those times. British forest department of those times made a control over the demarcated land and prohibited cultivation and the operation of cattle stations. It was the year of 1868 when the first step in the preservation of this area begun. Soon after in the year of1879 these forests were turned into Reserved Forest Area where restricted felling was permitted.
The idea of setting up of a National Park on this magical soil was suggested by the several Britishers, including E.R. Stevans and E.A. Smythies in the early 1900s. Then after British Administration took initiative and considered the possibility of establishing a game reserve in 1907. It was the year of 1930 when the process of demarcation of identified area went underway under the excellent supervision of Sir Edward Jim Corbett, who knew the area very well.
The National Park act was finally came into effect in 1935 when Sir Macolm Hailey was Governor of the province and hence first National Park of Asia came into existence as Hailey National Park. After the independence the park was known with the name of Ramganga National Park for a brief (1952-1957) period of time. In 1956 the park was again renamed as the Jim Corbett National Park as a tribute to the legendary Sir Edward Jim Corbett. Hunting activity was made strictly prohibited activity only timbers cutting for domestic purpose were allowed.
Another golden day added in the history of Jim Corbett National Park when in 1973 Corbett Named Park was considered for the launch pad for India's Tiger Protection program and hence become the India's first Tiger Reserve.
Synthesis Of Culture :
Mountains are itself an abode to many unique human cultures that represents distinct lifestyle in the region. Though, it is a matter of fact that life in such regions are quite difficult and takes a heavy toll on the hill folk who inhabit the difficult terrain. This is the primary reason why religion, worship, social gatherings and fairs play a key role in the life of people living in this area. As we know that Corbett is tucked away in the foothills of Himalayan Sub-belt and hence reveals a synthesis of two such hill cultures i.e. Garhwali and Kumaoni. Similar culture is found in many other mountain regions worldwide where music and dance is important cultural element. Kumaoni and Garhwali regions have distinct folk art forms that are basically woven in the texture of daily life.
Steeped in religious fervor the dances performed here are of both types religious as well as recreational. Dances having religious aspects move around Hindu deities like Durga, Shiva or Kali and the epics like Mahabharta. Some of the interesting dance style that is performed by Pahari people is for recreational purpose that is shown on the occasion of weddings, melas or harvest celebrations representing the romantic tales of the region. Jhora, Chapeli, Dhol, Chanchari, Devtali, Kyunki, Cholia, Chunfula and Jhumaila are some of the most popular dance forms.
It is truly said that music fuels the mind and body and thus fuels our creativity. Likewise the music of the hills is equally enchanting. While singing pahari music they uses a variety of instruments like traditional trumpets, drums, flutes and bagpipes. These traditional folks have given rise to many ragas of the classical forms. The main forms include: Chaiti, Bairas Hurkiya Biol and Neoli.